The live stream online course is led by an instructor and is organized in a live virtual meeting room (Zoom) where students and the instructor meet together to communicate via video conferencing. The course follows a specified schedule and requires students and the instructor to be online at the same time. Follow along in textbook, hear real-life examples and ask questions just as if you were sitting in the classroom. We do recommend this format; however, if you cannot fit this format in your schedule or you wish to complete the course in as little time as possible, we offer a self-paced (self-study) format as well.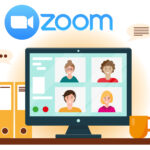 Live Virtual Classroom Schedule:
Course Runs:
Mon., Tues., Thur., Fri.
10:00 a.m. – 2:00 p.m.
15 Class Modules
Course Length:  Approx. 3 1/2 Weeks
Course Runs:
Mondays and Thursdays
6:00 p.m.. – 10:00 p.m.
15 Class Modules
Course Length:  Approx. 7 1/2 Weeks
Live Virtual Classroom Session Start Dates:
August 9
August 17
August 26
September 7
September 16
September 24
October 4
August 12
August 30
September 20
October 7
No classes September 3-6 (Labor Day)
Although, our live stream classroom course runs on a set schedule, we do offer flexibility. The classes are module formatted so each class is an isolated topic. Should you miss a classroom modules (s), it can easily be made up when it rolls back around in either the day session or the night session.
At registration, we provide an attendance affidavit which will be used to keep track of all 15 modules and turned in at course completion. Students have a generous six months to attend all 15 modules (whether in the day session, the night session or a mixture of both) and successfully complete the final course exam (s).
Plan your course schedule with our complete module itinerary which can be found under the 'Student Resources' tab.