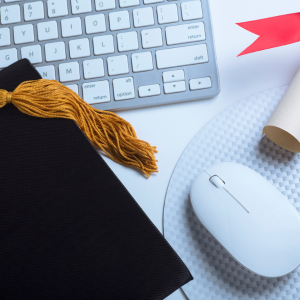 Our self-paced 60-hour pre-license course is state approved and will provide a solid foundation for aspiring real estate professionals in Virginia.  Complete this course in less than two weeks or work at a slower pace by taking advantage of the generous six-months from registration enrollment period.  The choice is yours.
What makes Our online Course Stand out?
Our students have the option of monitoring any of our live instructor-led Zoom classroom sessions for extra reinforcement of the material.  In addition, online students have access to our weekly live instructor Q & A sessions held through Zoom.  
Although your course is designed to be taken on your own time and at your own pace, know that you are not alone.  Our support team is available seven days a week to address any questions that you may have.  Contact us at any time here.
Each unit includes an overview of unit contents that highlights the topic and explains how it relates real estate law, regulations, and principles to the practice of real estate.  This instructionally designed course includes quiz questions, interactive activities, scenario-based case studies, unit quizzes, and video files to help you master the material.
Learning objectives for each unit 
Interactive exercises clearly illustrating important concepts
Unit reading assignments
Tailored content to Virginia
Easy-to-use, friendly interface
stop, start, rewind each lesson as often as you like
Course progress tracking
Quizzes and exams to help students measure their understanding
Choose THE PERFECT PROGRAM
ULTIMATE SUCCESS
60-Hour Principles of Real Estate
Ability to Monitor Live Zoom Classroom Sessions
$0 COST FINAL COURSE EXAMS | MOST SCHOOLS CHARGE EXTRA
Weekly Live Q & A Sessions
Virginia Real Estate License Exam Prep
Video Recordings of Classes (Great Study Tool!)
4 Keys Exam Prep Session | Held Monthly
ULTIMATE SUCCESS PLUS
60-Hour Principles of Real Estate
Ability to Monitor Live Zoom Classroom Sessions
$0 COST FINAL COURSE EXAMS | MOST SCHOOLS CHARGE EXTRA
Live Weekly Q & A Sessions
Va. Real Estate License Exam Prep Workbook (PDF)
Video Recordings of Classes (Great Study Tool!)
4 Keys Exam Prep Session | Held Monthly